" YOUR BODY CAN STAND ALMOST ANYTHING. IT IS YOUR MIND THAT YOU HAVE TO CONVINCE"
​- UNKNOWN
My Journey Towards FULL Element LIVING

As so many stories that have been shared with me seem to go, my journey was not destined to be a straight or smooth at times.

In 2007 I was diagnosed with Fibromyalgia Syndrome (FMS), a chronic pain disease. I have gone through a series of treatments to find relief from my symptoms, at times feeling like I have tried everything.

Bouncing from treatment to treatment, for years, I finally stopped. I stopped looking, trying, or worrying about 'being cured' and decided to just start living ... as best I could in that moment, on that day.

I took my yoga teacher training. Not to become an instructor, not because I hoped it would cure me, but for my own mental health and wellbeing, and I just did what I could each day.

I started listening to my body when I ate, started noticing what genuinely made me feel good and what made me feel bad, not what the latest inflammation diet prescribed.

I started paying attention to what I felt and how hard I could push myself, not what the doctors, books or specialists said my limits would be.

​Things slowly started to change.
---
It sounds simple doesn't it? Just listen to your body, do what feels good for your mind, your heart, and your physical self, and all will be well. But for so many, myself included, it takes a lifetime of continually trying and reminding ones self of what combination of elements feel best that day, particularly since most days are not the same as the one before.

I still try new treatments, I still go for tests, and there have been medical successes as well, but they are secondary to the benefits that have come from living in stride with my own experiences. Living a life that is authentic to me. Living with the goal of experiencing ALL of the elements my life has to bring in that moment, on that day.

My hope is to help others navigate their own journey, and identify what elements in life are most important to them and how they can start to include those things, every day, into their own experiences.

-In Health and Wellness, Amy Trefry
Powered by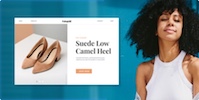 Create your own unique website with customizable templates.